As I mentioned in my post yesterday I willingly woke up at 3:30AM on Sunday morning after getting five hours of sleep in order to get up, gather my boyfriend's things and head up to Peterborough as he race in the Half Ironman (2k swim, 90k bike that ended up being only 85k, and a 26k run!) Doesn't that sound ridiculous to you? If I had my car, I'd drive the poor soul to his race. Instead he drove three hours and then did a 5 hour race immediately after. Then after the guy raced we headed back home almost an hour later and got stuck in cottage country traffic. Sweet.
Needless to say it was a quiet ride up north as I wrapped myself tightly in the fleece blanket and boyfriends fleece zip up over my head so I couldn't see the sunrise when it started to. I'm not a happy person in the mornings especially when I don't exactly need to get up. I was hesitant on the whole situation as waking up at 3:30AM doesn't exactly appeal to me. But, I'm a supportive race crew girlfriend and sometimes we sacrifice sleep for boyfriend's dedication!
Moving onto photos, but before I do I have to confess. Due to lack of sleep, I show you poor quality photos as a result. I totally missed him on the bike coming in for the dismount, and I shot some terrible ones of him going out for the run. OH WELLZ is all I can say! There's always next race :)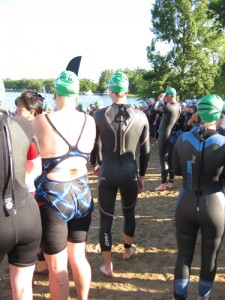 Pre-race. JUST finished racing to get his wet suit zipped up (courtesy of yours truly — professional wet suit zipper upper! I usually have a few strangers come up to me and ask them to zip'em up. Of course, it's usually quite difficult for the older men who have…ahem, grown out of their suits. I usually tell them to lift their arms above their head, that way it's easier for me to zippit. Hee hee!
Oh yeah. That's a hoard of people jumping in after the gunshot start. I'm not sure why they didn't do the swim in waves. My boyfriend was smart enough to get a swim cap for the 'last wave' so he wouldn't get bombarded by the amount of swimmers by his side. Oddly enough, I don't think there was much difference. Look at the pack of them!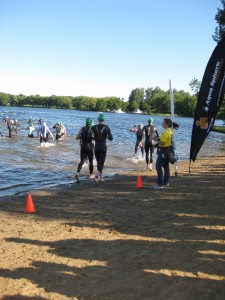 End of the first kilometer loop, and yes they had to get out of the water and run a hundred meters only to get back in the water and swim another KM. Wouldn't be me! Guess that's why I'm the photographer and not the athelete! :)
Inside the huge absolutely huge transition area. A lot of folk come out for this race, even from the states.. I had to snap this photo real quick as he has very fast transitions. Here's my boyfriend with his coner helmet on. I used to make fun of him wearing it last year, as I thought it was completely ridiculous, but now – now it suits him and he looks like a pro. GO GO GO!
And waiting for all the riders to come back from their 90km bike. The transition area goes almost as far as the eye can see, right? Huge race.
Running along the lakeside. This is probably at the 5km mark of his run. On the grass!
So here is us right after we got in the car and back on the good ol' high way.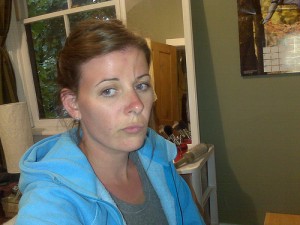 The next day resulted in… Outside previously all day with sensitive skin (7am – 4pm)? End result: Sunburnt (sunburned?). I look so disappointed, hahaha. Pitiful!
I'd also like to mention that I'm currently trying to figure out the RSS feed for this website. I've put a trouble ticket in with wordpress and they've already told me to look at the CSS validation on it — which doesn't work anyway! So I'm still at square one as to go about fixing this annoying problem.
Tomorrow I'll be posting my mini-shopping spree that I talked about.
Finally, I'd like to wish my friend Johanna a very happy birthday!!!!! She is SO awesome and I love her to death as my buddy!! This is us back in Newfoundland, Christmas time. I think hope she reads this site still. So HAI JOHANNA!! Yay.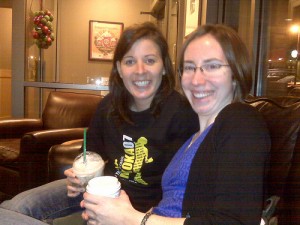 Annnnnd that's a wrap. Peace out everyone!